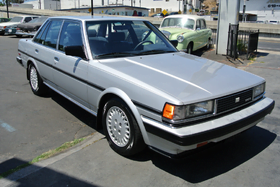 CLICK HERE TO DOWNLOAD TOYOTA CRESSIDA SERVICE MANUAL
The Toyota Cressida was a mid-size sedan marketed by Toyota from December 1976 to February 1993 through four generations. It was the flagship sedan of Toyota in the United States. The same chassis with slightly different bodies was available in other countries as the Toyota Mark II, Toyota Chaser and Toyota Cresta. The Cressida name was retired in 1992 (1993 in Australia), but the chassis and Mark II, Chaser, and Cresta names continued production in Japan until the early 2000s. In total, Toyota sold 353,053 Cressidas in the United States.
The Cressida was available worldwide in a variety of body styles and engines — including the 6-cylinder G-series, M-series, and the 4-cylinder R-series gasoline engines, as well as the 4-cylinder L series diesel.
The name "Cressida" derives from the lead character in William Shakespeare's play Troilus and Cressida. All Cressidas were manufactured at the Motomachi Plant in Toyota City, Aichi, Japan.
CLICK HERE TO DOWNLOAD TOYOTA CRESSIDA SERVICE MANUAL

Source: Toyota manual org
Toyota Cressida